Keeping the heat inside your livestock storage buildings keeps your energy costs down. Innovative Insulation is the world's largest manufacturer and wholesale retailer of radiant barrier for industrial and commercial use. Radiant barrier insulation is a reflective insulation system that reflects radiant heat energy instead of absorbing it. The aluminized radiant barrier film is a reflective insulation that is unaffected by humidity.

Key Benefits of Innovative Insulation Ag Barrier
Eliminates "Black-Globe-Effect"
Easier And Quicker Installation

Available In Extended Widths (Bridgeport Corporation is the exclusive distributor of 8ft seamless Ag Barrier)
Thickest & Strongest Radiant Barrier On The Market

Available In Perforated Or Solid

Corrosive Resistant

UV Inhibitor Added
View the Ag Barrier installation process in the gallery below.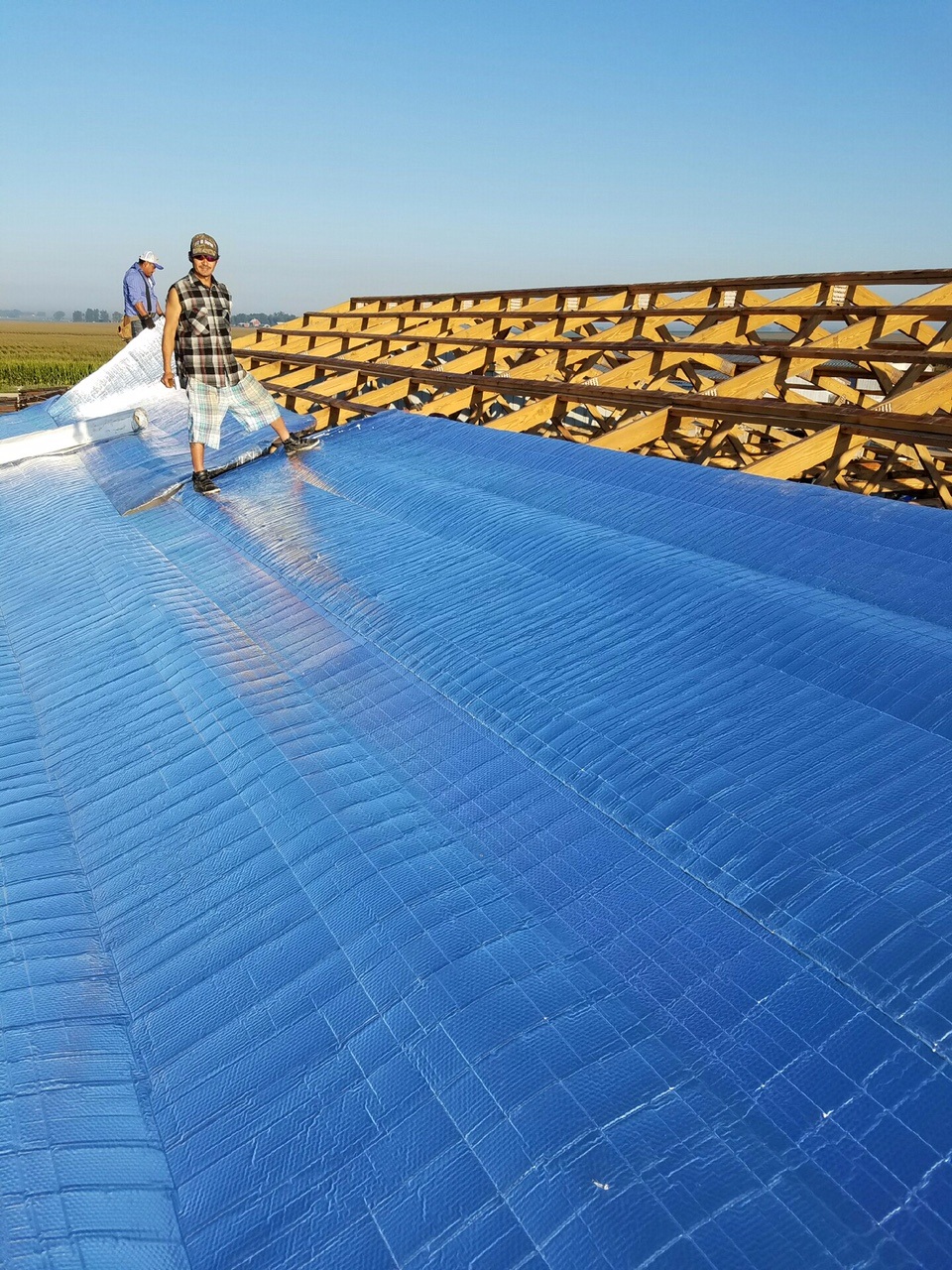 Good, quality LED Lighting helps to keep livestock calm and promotes a safe environment. Whether you're looking for long-day lighting, the ability to provide a calm, cool spectrum, or boost energy with peak day lighting, your lighting can be designed to your specs. Lighting should provide the best environment for your business, our partnership with LumenPros and ONCE® allow us to provide a dependable customer experience.
The Power Of Light
Double the light of competitors

50-75% more efficient than competitors

Superior uniformity

Replaces fluorescent & Jelly Jar fixtures for Poultry and Swine
SWINE Lighting
Dim levels of natural light from 4-6fc

Daylight or cool spectrum 5000K-5700K

Farrowing room lighting aspects varied lighting from living environment.
Poultry Broiler Lighting
Monochromatic Light 8-15fc

Daylight or cool spectrum 5000K-5700K

Stimulate growth and a safe environment.
DAIRY Lighting
Long-day lighting increases production.

Primarily daylight or cool lighting with peaks in the 450nm and 560nm regions.

Feed lanes average intensity 20-30fc depending on customer preference.
MSW Plastics offers the best in PVC interlocking and corrugated panels and planking. Its Ribcorebrand of PVC corrugated panels are long-lasting, cost-effective and simple to install and maintain, perfect for a broad range of agricultural, commercial and industrial applications.
TrussCore
PVC Interlocking Liner Panel
Low Maintenance: Never requires painting or refinishing.

Class One Firing Rating: Tested to Flame Spread Index of 25.

Limited Lifetime Warranty
RibCore
PVC Corrugated Panel
Made from 100% Virgin PVC

Great alternative to metal or wood – will not rot or rust

Easy to install and easy to clean

Long-lasting and cost-effective
NorLock
PVC Panels & Planking
Tight fitting tongue and groove

Durable construction (heavy items can be directly affixed)

Bright white appearance to lighten your rooms

Available in multiple widths & lengths

No external support necessary

Openings can be cut directly into Norlock Walls

Resistant to bacteria

High impact testing
Here are just some of the manufacturers we work with: